The 17 Best CSGO Trading Sites of 2017
You might be wondering why you would want to make use of a CS:GO trading site instead of a site where you buy and sell items. One very good reason is that trades are immediate. You don't have to post your items and then wait for a seller to come along.
To use a bot trading site, you compare your items directly to skins available on the platform. If your skins match the value of the skin you want you can trade straight away and the leftover money is credited to your URL.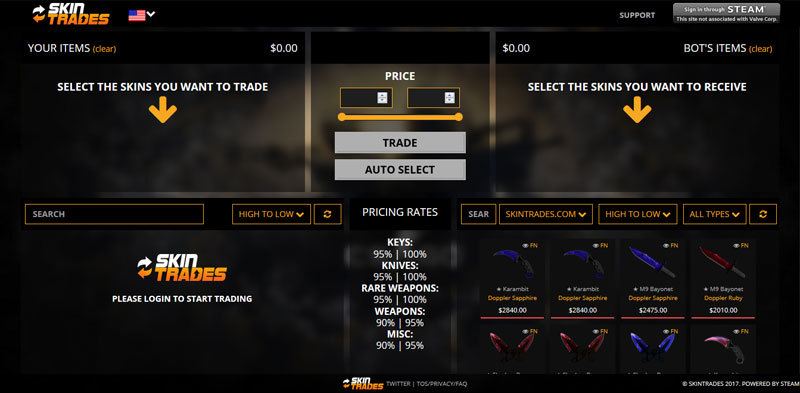 SKINTRADES is a fantastic looking site on which to do your trades, like a csgo marketplace. It is very easy to log in through Steam. It is equally easy to filter and look for items you want to exchange. You can also check for items on some other trading sites.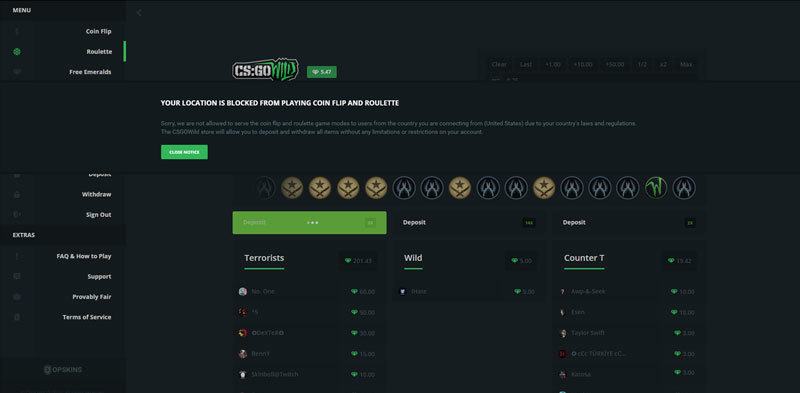 WILD is probably one of the best-made trading sites on this list. It is also one of the most recognized by the community and the entire ranking system. On WILD you select the items you want to trade and wait for an offer that is acceptable.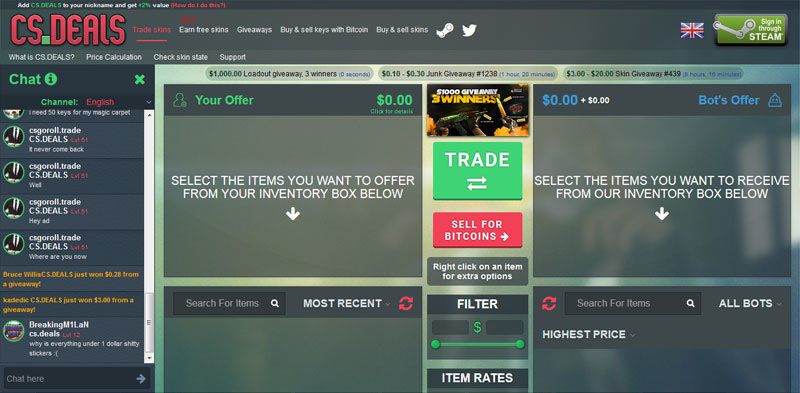 This is by far not the best looking site you will ever see and it isn't that well known. They do offer you the chance to earn free skins by completing surveys. It is also possible to buy and sell skins on here.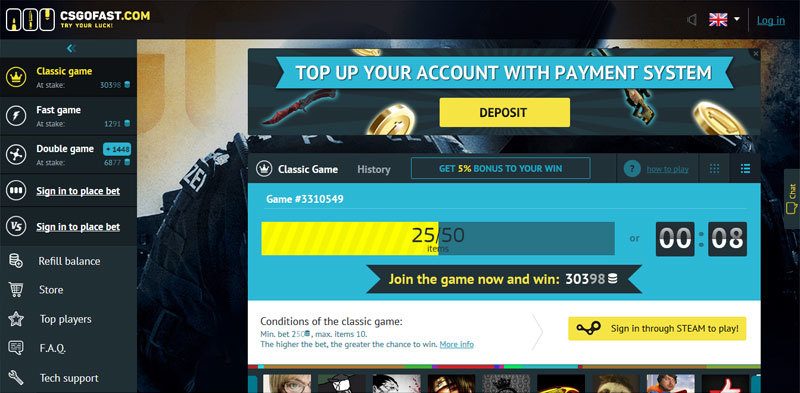 In line with its name CSGOFAST has a pretty straightforward process. You log in through Steam, set your trading link, offer your items for trade, receive a balance, and you can then use this balance to buy new skins.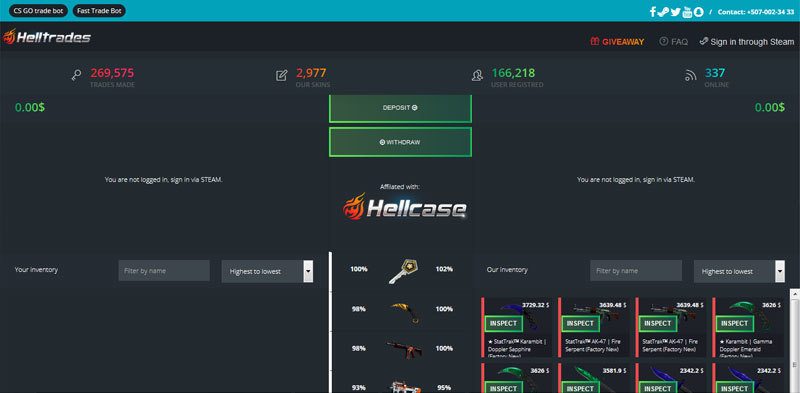 Helltrades work much the same as CSGOFAST but it comes on a much better looking site. A cool extra is that they also run giveaways on occasion. They seem to run active social media accounts to be more accessible.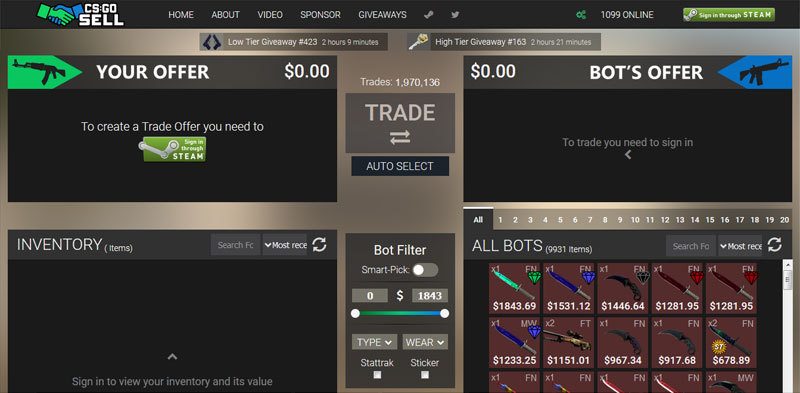 Another site with a pretty robust process. You signup and set your trading URL, select your items you want to train, as the balance builds up affordable items from the bot will become selectable. They even have a tutorial video.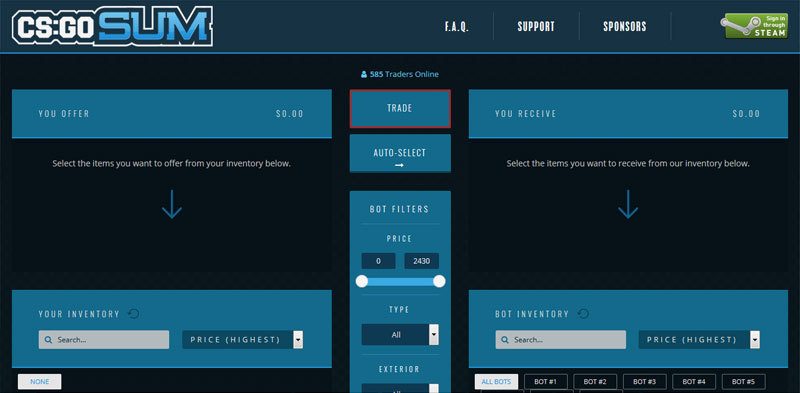 CS:GO SUM comes with some nice and easy to follow documentation. The process is pretty standard. They only accept money through G2A, though and all trades are final. Their social media also does not look too active.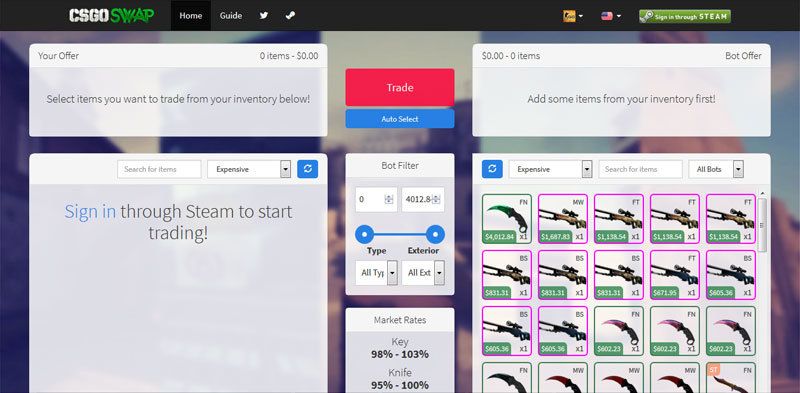 This site has a modern and straightforward design that makes it easy to use. It also has a nice "Auto select" button that chooses items from your inventory to match the cost of the item you want.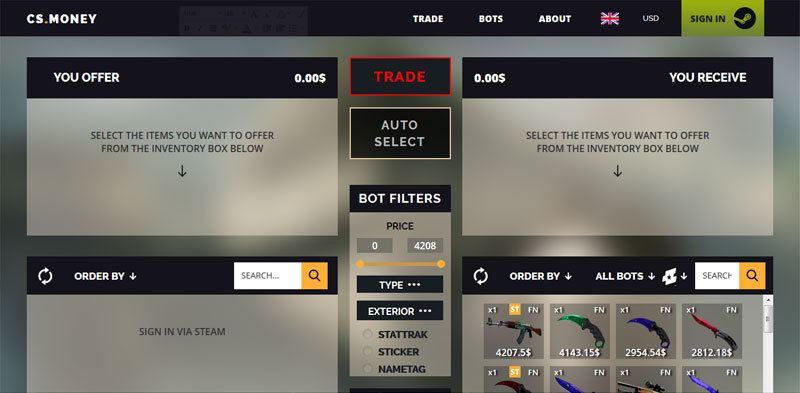 If you go read some Steam community forums you should've definitely noticed this name pop up. Most people swear by them and that they provide the safest service with the best rates. You can also offer your items to trade after they review your rate.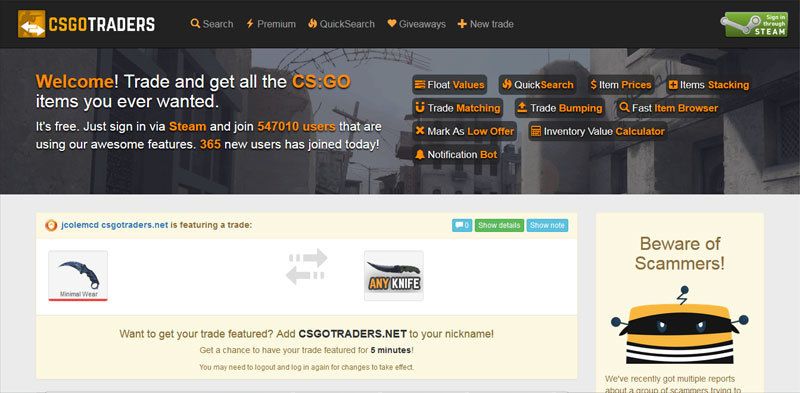 CSGOTRADERS offers a premium subscription that gives plenty of benefits. Your item gets bumped up more regularly to have a higher chance of getting chosen. You will get important notifications. Mark low-balling offers and they will get rid of all ads.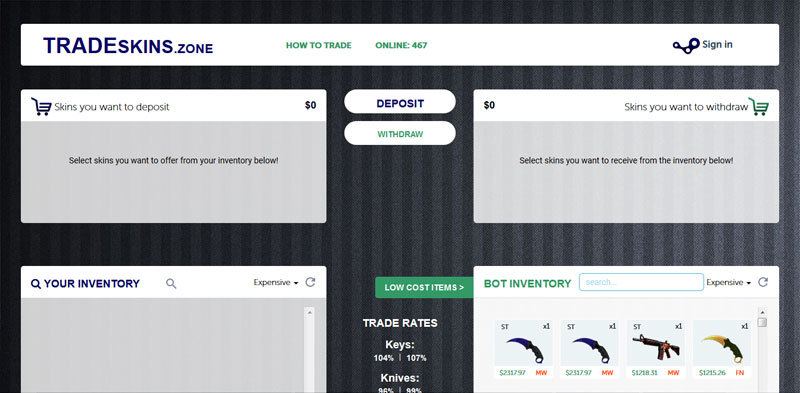 Not to be confused with SKINTRADES, this is another good looking site. Unfortunately, you have to log in before you can see any information and it is one of the lesser known sites. They have promotional codes that you can apply to get better deals.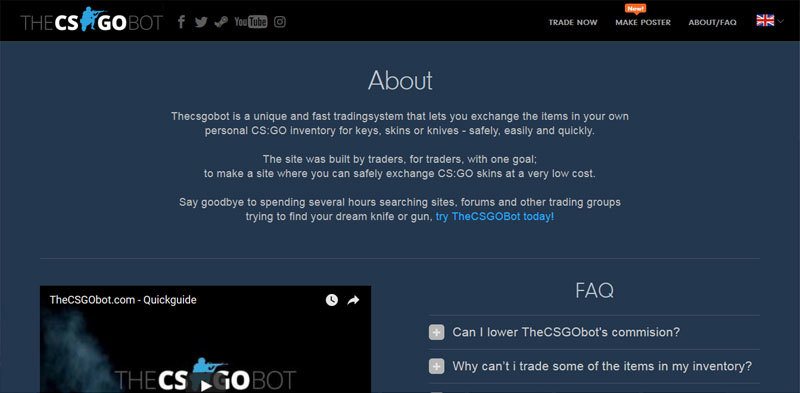 This trader comes with a ton of information and runs active accounts on almost all social media, Twitter, Facebook, Instagram, etc. An extra cool feature they provide is that you can create a poster with your CS:GO skins!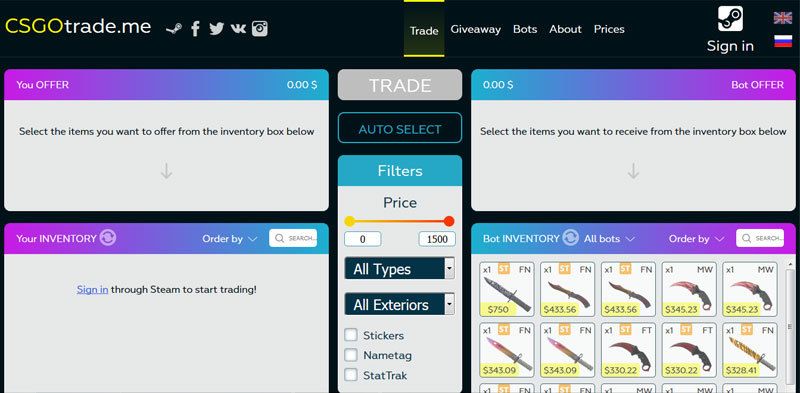 Another trading bot that takes its social media seriously. You should check out their Instagram for updates on new items and deals. They also run constant giveaways and you can search the price of any item quickly.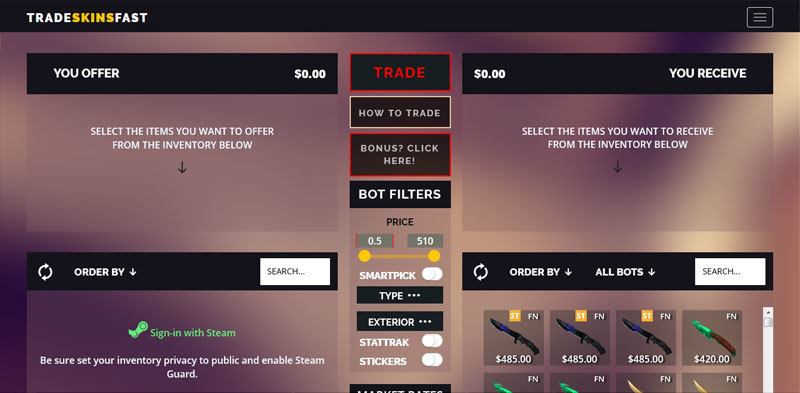 TRADESKINSFAST makes sure there are many ways they can get in touch with the community and customers. From partnerships with many YouTubers and support accounts on Steam or email and feedback channels. They also have giveaways and give 3.5% discount for your URL, most other traders only give 2%.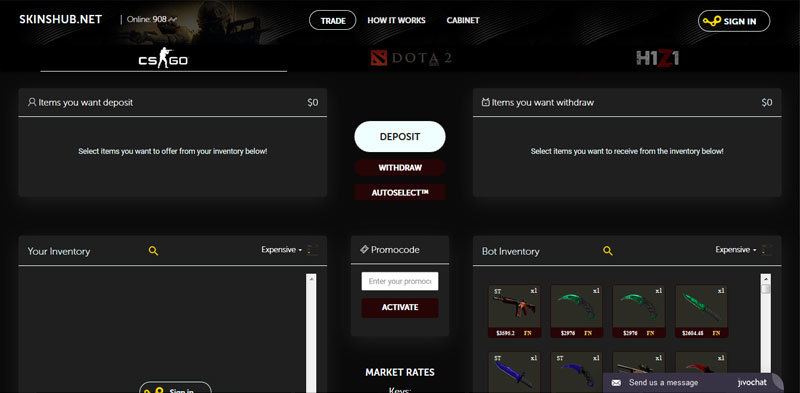 This trader not only trades CS:GO skins but Dota 2 and H1Z1 items too. This is a very standard trader with not much extra to offer except trading for those other games. The site does look very good though.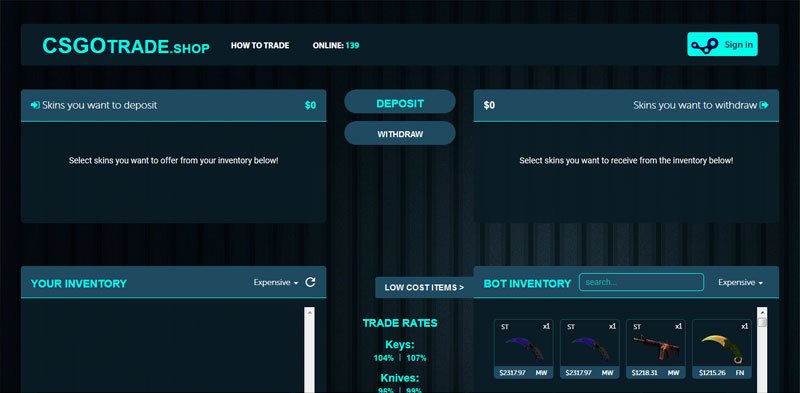 Just like SKINSHUB.NET, CSGOTRADE is a very standard trading bot. There aren't any giveaways or promotions, but if you want to make a quick, easy, and straightforward trade it's one of the places to go.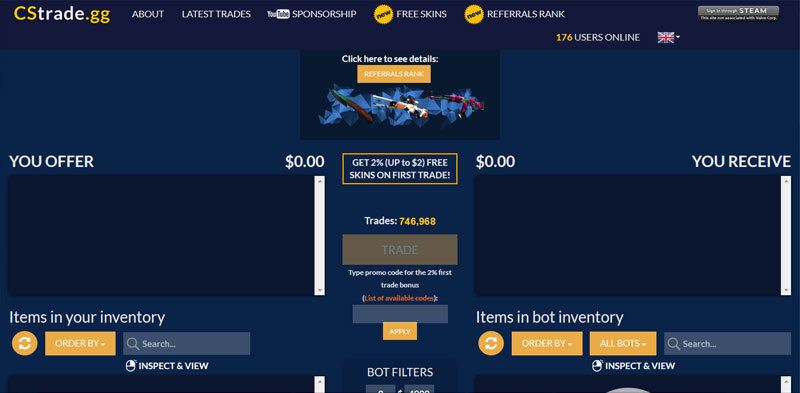 CStrade.gg looks like a fantastic up and coming trading bot. They are still climbing the ladder of popularity but with awesome features like a referral system, free skins giveaways, and latest trades we're sure they will become one of the best.